Ceramic Foam Filter Suppliers
Ceramic Foam Filter Suppliers AdTech mainly for filtration of aluminum and aluminum alloys in foundries and cast houses.
With their excellent resistance to attack and corrosion from molten aluminum, they can effectively remove inclusions, reduce trapped gas and provide laminar flow
And then the filtered metal is significantly cleaner. Cleaner metal results in higher-quality castings, less scrap, and fewer inclusion defects, all of which contribute to bottom-line profit.
Apply to improve the quality of aluminum alloy and other non-ferrous alloy casting.Improve metallurgical structure Enhance mechanical properties Change turbulence into laminar flow…
Ceramic Foam Filter Suppliers AdTech is available in all standard dimensions and different thickness. We offer the whole range of porosities from PPI 10 up to PPI 60 (PPI = pores per inch). Custom-made cut-to-size filters are also possible.
Ceramic Foam Filter Suppliers common sizes
Ceramic Foam Filter Suppliers is available in all common sizes:
7″, 9″, 12″, 15″, 17″, 20″, and 23″.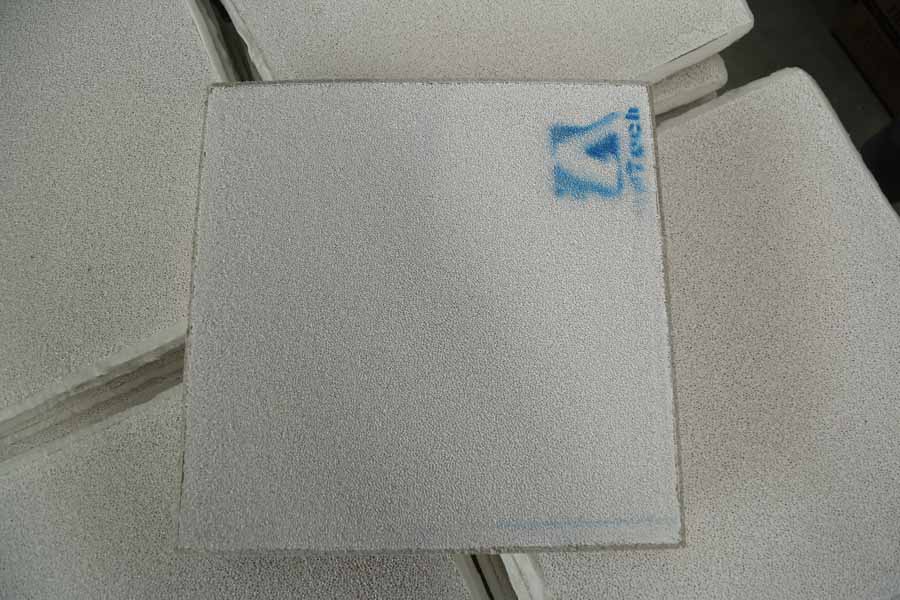 Ceramic Foam Filter Suppliers Gasketing:
Alumina Ceramic Foam Filters is equipped with a gasket on the edges. The gasket assures the proper and tight position of the filter within the filter box. There are different types of gasket available, eg. ceramic fiber gasket etc. Also you can choose CFF-AL without gasket.
Sound infrastructure is one of our key strengths that stands us apart in the competitive market.
Our infrastructure is well equipped with all sophisticated machine and equipment, which play pivotal role in manufacturing the best products.
All the machine and equipment installed in are easy to operate, have high production capacity, and can manufacture the international standard products.
This is supported by trained and qualified personnel, who are familiar with all latest manufacturing techniques and current market requirements as well.
All the machines and equipment are kept well maintained at par with latest trends and manufacturing requirements.