Ceramic Filter Suppliers Aluminum Malaysia consists of many uniform and countless micropores. When the aluminum liquid passes through these small holes, the suspended matter, colloidal particles and macromolecular organic matter are trapped on the surface of the filter medium, and the fluid passes through the microporous channel to produce various physical effects to achieve mechanical filtration and purification effects.
With the development of the aerospace and automobile industries, the requirements for the inherent quality of aluminum alloys are getting higher and higher, but in the process of aluminum alloy smelting, refining, heat preservation, alloying and casting, some insoluble inclusions will be brought in and need to be deleted. To ensure high-quality aluminum castings.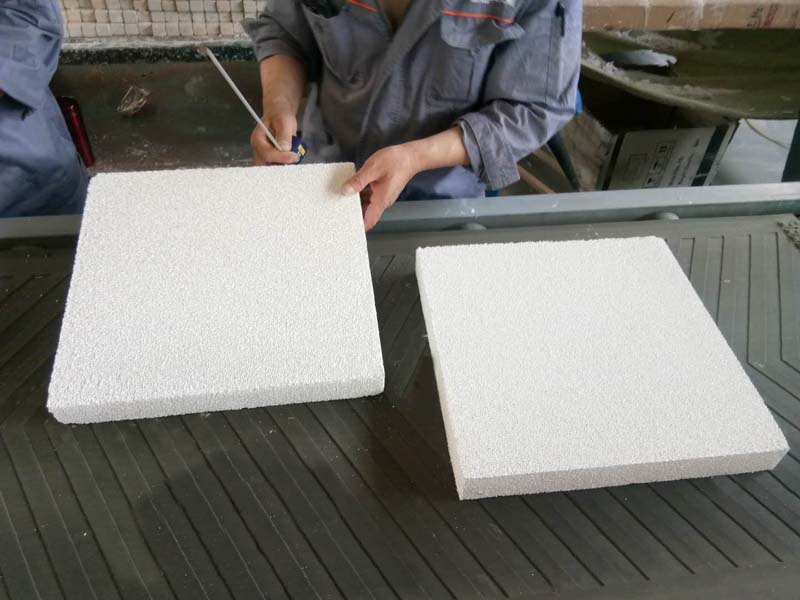 Ceramic Filter Suppliers Aluminum Malaysia is basically divided into 6 kinds of apertures: 10PPI, 15PPI, 20PPI, 25PPI, 30PPI, 40PPI.
The larger the number, the smaller the opening. But in actual operation, the four types of 10PPI 20PPI 30PP 40PPI can meet the needs of customers.
RUSAL introduces the advantages of ceramic foam filter plates
1. Adopting the principle of adsorption to filter, which can effectively remove large inclusions in molten aluminum and adsorb micron-sized inclusions. The filtration accuracy of the same mesh size is high.
2. Without reducing slag, reducing pollution to molten aluminum.
3. Good thermal shock resistance and good corrosion resistance to molten metal.
Ceramic foam filter can absorb and capture the fine impurities in the aluminum fixture, which can not only reduce the casting cost, but also improve the casting quality.
The ceramic foam filter consists of a network of interconnected voids, surrounded by a ceramic mesh, and is widely used for filtering molten metal.
The characteristics of the filter depend on the geometry of the element (density, element size) and the characteristics of the material.
The aluminum foam filter manufacturer provides the following dimensions
660x660x50 (26″)
584x584x50 (23″)
508x508x50 (20″)
432x432x50 (17″)
381x381x50 (15″)
305x305x50 (12″)
228x228x50 (9″)
178x178x50 (7″)
Press Metal Bhd. is one of the largest aluminum and aluminum alloy producers in Asia and the only electrolytic aluminum enterprise in Malaysia. The company plans to build a new electrolytic aluminum plant with a designed annual production capacity of 320,000 tons.
Press Metal Bhd. currently has an annual production capacity of 760,000 tons of electrolytic aluminum. There are two electrolytic aluminum plants with an annual production capacity of 120,000 tons and 640,000 tons respectively. They mainly produce aluminum ingots and aluminum alloys. "The project has started construction at the beginning of this month," a source said, and the construction of the project is expected to be completed within a year.
It is reported that the project is fully invested and constructed by its group company, with a total of about 280 million US dollars.
The company has been operating at almost full capacity in the past two years, mainly purchasing anodes from China and alumina from Australia.
The current mainstream transaction price of alumina is about US$300/ton offshore Australia..