Press Metal visit AdTech
Recently, Press Metal visited our factory and conducted in-depth and friendly communication with our technical staff.
Press metal is a Malaysia-based aluminum company with operations all over the world. Since 1986, the company has been a privately owned local aluminum profile company, and the company has grown into a global aluminum profile company. The output of aluminum alloy is 760,000 tons, and the output of extruded profiles is 210,000 tons per year. It is the largest integrated aluminum producer in Southeast Asia.
In-depth communication with Malaysian customers
Press metal has always been our strategic customer, and we have cooperated with our company to stabilize the filter plate, refining agent, launder equipment, degassing box, filter box, hot top fittings, etc. The press metal visit mainly relies on the gas box. Tilting filter boxes, ladle equipment, launder heating systems and other equipment and our technical staff conducted in-depth exchanges and provided valuable advice. The two sides conducted in-depth discussions on the heating system and the tilting device. Our technicians made detailed answers to the questions raised by the customers and solved the customer's questions.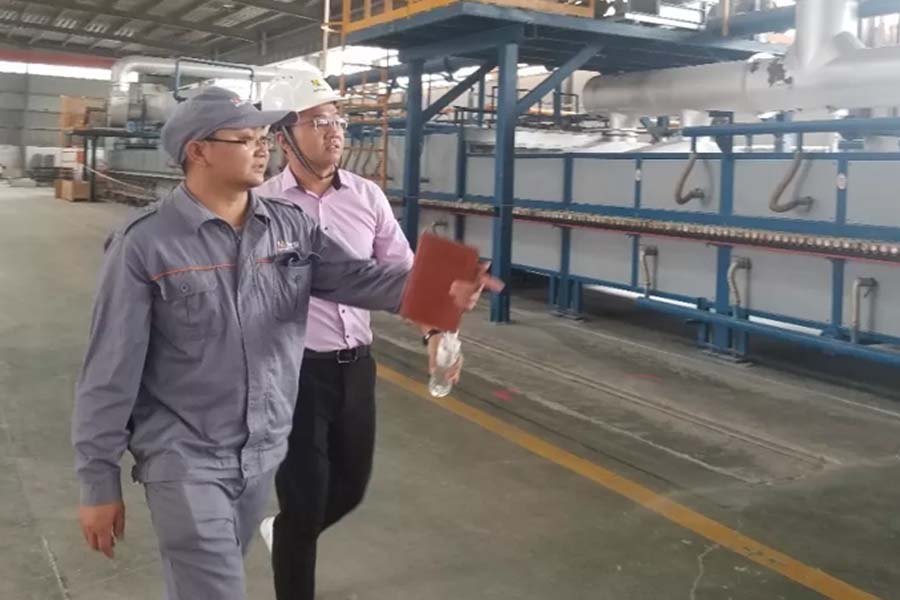 Leading customers to visit the AdTech factory
Then Press Metal led the AdTech production workshop under the leadership of AdTech Technology, to learn more about the filter plate production line, the hot top product line, the fiber product line, Press metal to understand the AdTech products, and inquire about the product production process. And give high recognition to the quality of our products. Then I visited the high-precision equipment workshop, and went deep into the process of releasing the gas box, the use methods and precautions of the product parts, and highly praised the equipment workshop that is undergoing 6s management.
Press metal, under the leadership of our technical minister, visited the production workshop
This visit to Press metal has a more comprehensive and in-depth understanding of the current development of AdTech, laying a solid foundation for closer business cooperation in the future. AdTech will also continue to provide the most advanced technology, the highest quality products, the most intimate service.