Molten Aluminium Refine Agent reduces the content of hydrogen and Al2O3 in the alloy liquid through chemical reaction, adsorption and filtration, and improves the quality of die casting.
Cast aluminum alloy needs to be refined before pouring to purify the alloy liquid, which is a consensus of all aluminum factories in the world.
The main reason for ignoring the refining of die-casting aluminum alloy is the particularity of the die-casting production method.
Since liquid alloys are formed under high pressure and cooling conditions, the pore defects caused by air envelopment are the main reason.
Therefore, the sensitivity of aluminum alloy to refining treatment is lower than other casting methods.
For die-casting, it is necessary to remove as much air in the mold cavity as possible, for example, to open an overflow groove in the mold.
Other factors can easily lead people to ignore the necessity of refining die-cast aluminum alloys, such as
1. The quality requirements of die castings are not high.
2. The plant has a dry climate and low aluminum ingot oxide content.
3. The proportion of waste recovered in normal mass production is low, the recovery rate is low, and the quality of new ingots is better.
4. The smelting capacity of the smelting equipment does not match the production capacity of the die-casting machine (that is, the smelting capacity is insufficient).
4. Based on the consideration of the production cost of die castings, the influence of traditional customs.
With the continuous improvement of the internal and external quality requirements of die castings, many castings have put forward requirements for air tightness and workability. Therefore, it is very necessary to use Molten Aluminium Refine Agent to refine the cast aluminum alloy.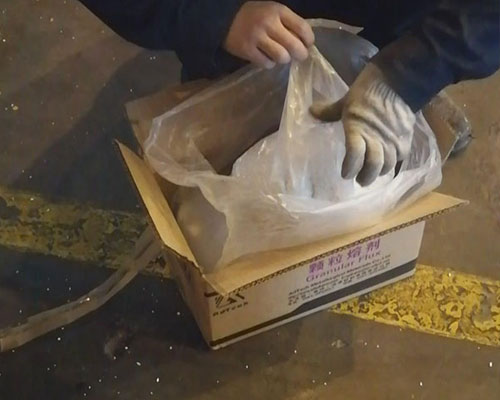 Traduction Française
L'agent de raffinage d'aluminium fondu réduit la teneur en hydrogène et en Al2O3 dans l'alliage liquide par réaction chimique, adsorption et filtration, et améliore la qualité du moulage sous pression.
L'alliage d'aluminium coulé doit être raffiné avant d'être versé pour purifier le liquide de l'alliage, ce qui est un consensus de toutes les usines d'aluminium dans le monde.
La principale raison pour laquelle on ignore l'affinage de l'alliage d'aluminium moulé sous pression est la particularité de la méthode de production par moulage sous pression.
Étant donné que les alliages liquides se forment dans des conditions de haute pression et de refroidissement, les défauts des pores causés par l'enveloppement d'air en sont la principale raison.
Par conséquent, la sensibilité de l'alliage d'aluminium au traitement d'affinage est inférieure à celle des autres méthodes de coulée.
Pour le moulage sous pression, il est nécessaire d'évacuer le plus d'air possible dans la cavité du moule, par exemple pour ouvrir une rainure de trop-plein dans le moule.
D'autres facteurs peuvent facilement amener les gens à ignorer la nécessité d'affiner les alliages d'aluminium moulés sous pression, tels que
1. Les exigences de qualité des moulages sous pression ne sont pas élevées.
2. L'usine a un climat sec et une faible teneur en oxyde de lingot d'aluminium.
3. La proportion de déchets récupérés dans la production de masse normale est faible, le taux de récupération est faible et la qualité des nouveaux lingots est meilleure.
4. La capacité de fusion de l'équipement de fusion ne correspond pas à la capacité de production de la machine de moulage sous pression (c'est-à-dire que la capacité de fusion est insuffisante).
4. Sur la base de la prise en compte du coût de production des pièces moulées sous pression, l'influence des coutumes traditionnelles.
Avec l'amélioration continue des exigences de qualité internes et externes des moulages sous pression, de nombreux moulages ont mis en avant des exigences d'étanchéité à l'air et de maniabilité. Par conséquent, il est très nécessaire d'utiliser d'utiliser 'affinage d'aluminium fondu pour affiner l'alliage d'aluminium coulé.