Molten Aluminium Refining Agent is in the form of a fine white (gray) powder. The main components are chlorides and fluff stone and other compounds. Used for degassing, cleaning, grain refinement and other purposes of molten aluminum alloy.
Refining Agent is often added during the melting, heat preservation, or degassing of aluminum in furnaces, crucibles, ladles, or other aluminum containers.
The process recipe changes according to its purpose and other process variables.
The refining stream is widely used for refining aluminum/alloy castings in reverberation furnaces and holding furnaces.
The Refining Agent is put into the powder spraying equipment, and under the action of nitrogen or argon, the flux is sprayed into the aluminum liquid twice, and the nozzle is placed near the bottom of the furnace and stirred evenly.
Keep Refine Flux and the molten aluminum in good contact. The molten aluminum is refined with nitrogen or argon at the bottom of the furnace for 20 minutes. After physical and chemical effects, many tiny bubbles are formed.
The bubbles separate the hydrogen atoms and slag from the molten aluminum.
After that, cleaning and purification is complete.
AdTech Refining Agent can form compounds with low melting point and high fluidity in molten metal.
It can produce anions that can react to form the desired reactant. In addition, Refining Agent can also absorb, agglomerate or float reaction products.
Molten Aluminium Refining Agent is divided into powder form and granular form. It uses a refining powder sprayer to spray carrier gas (nitrogen or argon) to the bottom of the molten pool to form numerous bubbles in the molten aluminum. The bubbles are in full contact with the molten aluminum during the process of floating from the bottom to the top. Through physical and chemical effects , Bring the gas and inclusions in the molten aluminum to the surface of the molten aluminum to achieve the purpose of degassing and slagging. After a large number of applications, it has been proved that this series of refining agents have significant effects on the degassing and slagging of pure aluminum and aluminum alloys. .
Features:
The content of H₂O in the Refining Agent is low; it has good fluidity; it can effectively degas and remove slag; it produces less smoke and dust; it uses less and has a low cost.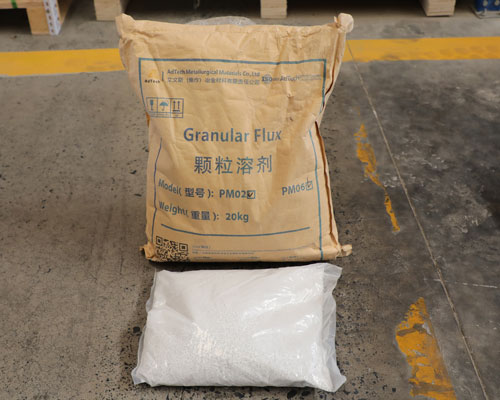 Traduction Trançaise – Molten Aluminium Refining Agent
L'agent de raffinage d'aluminium fondu se présente sous la forme d'une fine poudre blanche (grise) dont les principaux composants sont des chlorures, de la pierre de fluff et d'autres composés. Utilisé pour le dégazage, le nettoyage, le raffinement du grain et à d'autres fins d'alliage d'aluminium fondu.
L'agent de raffinage est souvent ajouté pendant la fusion, la conservation de la chaleur ou le dégazage de l'aluminium dans les fours, creusets, poches ou autres conteneurs en aluminium.
La recette de processus change en fonction de son objectif et d'autres variables de processus.
Le flux de raffinage est largement utilisé pour le raffinage des pièces moulées en aluminium/alliage dans les fours à réverbération et les fours de maintien.
L'agent de raffinage est placé dans l'équipement de pulvérisation de poudre et, sous l'action de l'azote ou de l'argon, le flux est pulvérisé deux fois dans l'aluminium liquide et la buse est placée près du fond du four et agitée uniformément.
Maintenir le fondant en bon contact avec l'aluminium fondu. L'aluminium fondu est raffiné à l'azote ou à l'argon au fond du four pendant 20 minutes. Après action physique et chimique, de nombreuses petites bulles se forment.
Les bulles séparent les atomes d'hydrogène et les scories de l'aluminium fondu.
Après cela, le nettoyage et la purification sont terminés.
L'agent de raffinage AdTech peut former des composés à bas point de fusion et à haute fluidité dans le métal en fusion.
Il peut produire des anions qui peuvent réagir pour former le réactif souhaité. De plus, l'agent de raffinage peut également absorber, agglomérer ou flotter les produits de réaction.
L'agent de raffinage d'aluminium fondu est divisé en forme de poudre et forme granulaire. Il utilise un pulvérisateur de poudre de raffinage et le gaz vecteur (azote ou argon) est pulvérisé au fond de la piscine en fusion pour former d'innombrables bulles dans l'aluminium en fusion. Les bulles sont en contact total avec l'aluminium en fusion pendant le processus de flottement de du bas vers le haut. Grâce à des effets physiques et chimiques, amenez le gaz et les inclusions dans l'aluminium fondu à la surface de l'aluminium fondu pour atteindre le but de dégazage et de scories. Après un grand nombre d'applications, il a été prouvé que cela séries d'agents de raffinage ont des effets significatifs sur le dégazage et la scorification de l'aluminium pur et des alliages d'aluminium. .
Caractéristiques:
La teneur en H₂O de l'agent de raffinage est faible ; il a une bonne fluidité ; il peut dégazer et éliminer efficacement les scories ; il produit moins de fumée et de poussière ; il utilise moins et a un faible coût.