Foam Ceramic Filter Nordural Aluminum effectively removes various non-metallic inclusions in the aluminum melt during the aluminum melting and casting process, improves the purity of aluminum rods and ingots, and helps to improve product quality and reduce costs in the melting and casting workshop. The productivity has been improved to different degrees, the operation is simple, the process is simple, the control does not require excessive investment, and it is worthy of popularization and application.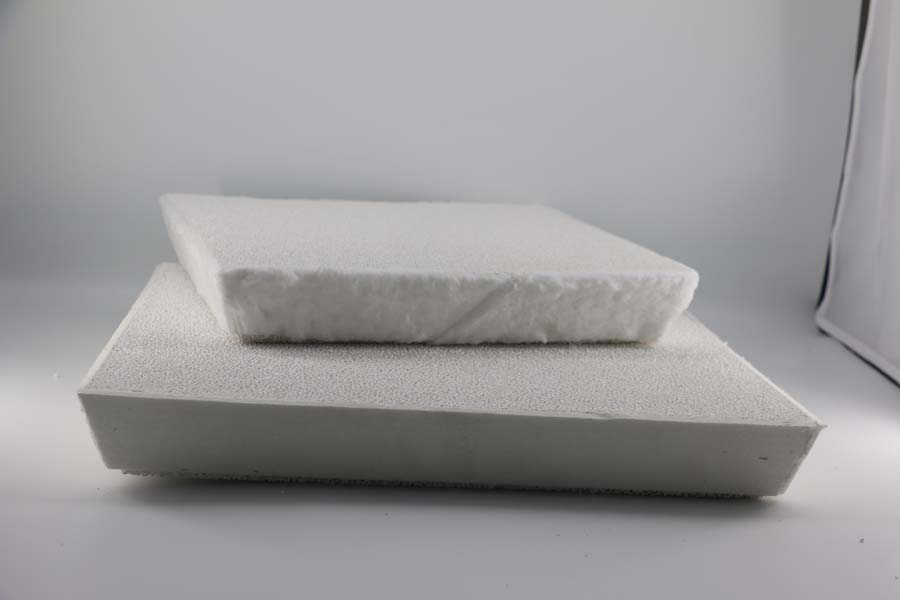 Foam ceramic aluminum liquid filtration and purification method and device are suitable for all aluminum production departments, including sheets, strips, foils, bars, pipes, wires, extrusions, forgings, primary aluminum ingots, recycled ingots and continuous castings , Manufacturing rolling bearings, etc.
Before using Foam Ceramic Filter Nordural Aluminum, it must be preheated to remove water and promote the initial immediate filtration. Preheating can be achieved by electric heating or gas heating. Under normal circumstances, it takes about 15 minutes.
Ceramic foam filter Dimension
660x660x50(26 inch)
584x584x50(23 inch)
508x508x50(20 inch)
432x432x50(17 inch)
381x381x50(15 inch)
305x305x50(12 inch)
228x228x50(9 inch)
178x178x50(7 inch)
Ceramic foam filter Pore Size (PPI): 10/20/30/40/50/60
30ppi 40ppi Foundry Filter is the most commonly used ceramic foam filter in the aluminum casting industry.
Ordinary aluminum casting usually uses 10-40ppi ceramic filter plates.
Aviation and high-quality aluminum materials usually use 30-60ppi ceramic filter plates.
Work at the Norðurál aluminum smelter began in 1996. The first phase of 60,000 tons of production capacity was completed in 1999. The second phase of 30,000 tons production capacity was completed in 2001. The total production capacity of the third and fourth phases was 130,000 tons and was completed in 2006. V was completed in 2007, with a total production capacity of 260,000 tons/year.
This work includes preparatory work, including the environmental assessment of the 300,000 tons/year smelter based on PB-VAW CA-180 technology, and the EPCM service of the first phase of construction, resulting in a production capacity of 60,000 tons/year.
The first stage
Including tank crane with metal discharge function, high voltage and rectifier equipment, a GTC, tie rod workshop, bath recovery plant, casting workshop, alumina storage and transportation system, a vacuum ship unloader and a 40,000 ton alumina storage silo , The electrolyzer operation and distribution system of the compressed air generator, maintenance facilities, warehouses and other general factory infrastructure.
second stage
Expand electrolyzers and increase metal output from 60,000 tons/year to 90,000 tons/year. It includes additional casting equipment, tank relining facilities and expansion of the alumina tank feed system, compressed air system and other infrastructure.
The third stage
Metal production increased from 90,000 tons/year to 180,000 tons/year, including a new tank production line based on the same tank technology, additional tank management cranes and a new crane maintenance facility, high-voltage equipment and rectifiers, a new GTC, Latin workshop Refurbishment, new bath recycling plant, special building for cooling spent anodes, foundry expansion, a 70,000 metric ton alumina storage silo, alumina transportation system expansion, compressed air system and other factory infrastructure.
Phase 4 and Phase 5
Including the further expansion of the second electrolysis cell line and an additional capacity of 40,000 tons each. These stages include the further expansion of the alumina transportation system, one GTC per stage, additional cooling buildings for spent anodes, and the expansion of the compressed air system and general factory infrastructure.