Molten Aluminium Granulated Flux is a white powdery granule. The main components are chloride salt and fluoride salt, as well as other salts and compounds. After proper heat treatment and sieving treatment, the particle size is uniform. A large number of applications have proved that it has a significant effect on the degassing and slag removal of pure aluminum and aluminum alloys.
The main advantages of Refine Flux
1. It has the advantages of combining gas refining and flux refining into one, and the degassing effect is better
2. The addition amount is small, the operation is simple and convenient, and the labor intensity of the workers is reduced
4. The utilization rate of the flux is high, which effectively realizes the degassing and slag removal of the molten aluminum
5. During the refining process, there is no smoke or dust, no smell, basically in line with environmental protection requirements
The granular refining agent produced by Adtech (www.adtechamm.com) is more environmentally friendly than traditional refining agents (core technical requirements).
The mainstream granular refining agent on the market has a chlorine content of 63%, while the chlorine content produced by our company is lower (the lowest), and it will not produce chlorine-containing flue gas when added to the aluminum liquid. The technology level is higher than that of the market acceptance. higher.
Particle refining agent products, aluminum grain refiners and aluminum master alloys are all auxiliary materials added in the aluminum processing process. As the world's largest manufacturer of aluminum grain refiners, Xinxing has special advantages in promoting particle refining agents and aluminum master alloy products. Customer resources and brand advantages.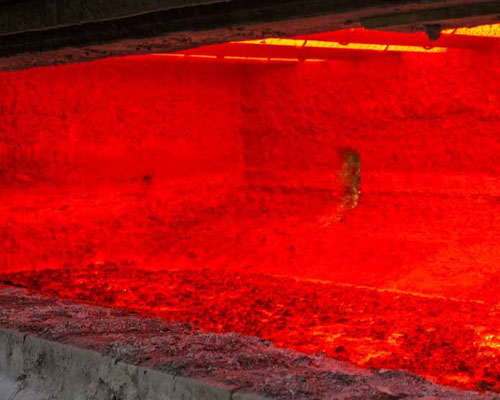 Advantages of Molten Aluminium Granulated Flux during use
1. Granulated Flux adopts the principle of combining liquid metal compounds to develop and configure products to reduce smoke, reduce burn damage, and be environmentally friendly and economical.
2. Granulated Flux solves the traditional refining effect of large amount and high aluminum ash content. AdTech's refining agent uses 1.5-2.0kg per ton of aluminum, and discharges 0.8-1% of aluminum ash, and achieves high-precision aluminum alloy casting It is required to effectively increase the rate of return of molten metal by 0.6-0.8% to achieve the purpose of energy saving and consumption reduction.
3. Granulated Flux is properly heated and sieved, and the particle size is uniform, which is beneficial for the refining tank to evenly enter the lower layer of the aluminum liquid under the action of the carrier gas (N 2 or Ar ), which fully solves the traditional pipe blockage and failure Uniform dispersion is not conducive to ensuring casting quality and other issues.
4. Part of the components in Granulated Flux are very easy to decompose at high temperature, and the generated gas is easy to hydrogen reaction, and has a strong adsorption force with slag inclusions, and quickly escapes from the melt. Other components also have the function of slag cleaning agent.
Traduction russe
Le flux granulé d'aluminium fondu est un granule pulvérulent blanc.Les principaux composants sont le sel de chlorure et le sel de fluorure, ainsi que d'autres sels et composés.Après un traitement thermique et un traitement de tamisage appropriés, la taille des particules est uniforme. Un grand nombre d'applications ont prouvé qu'il avait un effet significatif sur le dégazage et l'élimination des scories de l'aluminium pur et des alliages d'aluminium.
Les principaux avantages de Refine Flux
1. Il présente les avantages de combiner le raffinage du gaz et le raffinage du flux en un seul, et l'effet de dégazage est meilleur ;
2. La quantité ajoutée est faible, l'opération est simple et pratique et l'intensité du travail des travailleurs est réduite ;
4. Le taux d'utilisation du flux est élevé, ce qui permet de réaliser efficacement le dégazage et l'élimination des scories de l'aluminium fondu
5. Pendant le processus de raffinage, il n'y a pas de fumée ou de poussière, pas d'odeur, essentiellement conformément aux exigences de protection de l'environnement
L'agent de raffinage granulaire produit par Adtech (www.adtechamm.com) est plus respectueux de l'environnement que les agents de raffinage traditionnels (exigences techniques fondamentales).
L'agent de raffinage granulaire principal sur le marché a une teneur en chlore de 63%, tandis que la teneur en chlore produite par notre société est plus faible (la plus faible) et il ne produira pas de gaz de combustion contenant du chlore lorsqu'il est ajouté au liquide d'aluminium. niveau est supérieur à celui du marché.
Les produits d'agent de raffinage des particules, les raffineurs de grains d'aluminium et les alliages principaux d'aluminium sont tous des matériaux auxiliaires ajoutés dans le processus de traitement de l'aluminium. En tant que plus grand fabricant au monde de raffineurs de grains d'aluminium, Xinxing a des avantages particuliers dans la promotion des agents de raffinage des particules et des produits d'alliages principaux d'aluminium. et les avantages de la marque.
Avantages du flux granulé d'aluminium fondu pendant l'utilisation
1. Le flux granulé adopte le principe de combiner des composés métalliques liquides pour développer et configurer des produits afin de réduire la fumée, de réduire les dommages causés par les brûlures et d'être respectueux de l'environnement et économique.
2. Le flux granulé résout l'effet de raffinage traditionnel d'une grande quantité et d'une teneur élevée en cendres d'aluminium. L'agent de raffinage d'AdTech utilise 1,5 à 2,0 kg par tonne d'aluminium et rejette 0,8 à 1% de cendres d'aluminium et permet un moulage en alliage d'aluminium de haute précision. est nécessaire pour augmenter efficacement le taux de retour du métal en fusion de 0,6 à 0,8 % pour atteindre l'objectif d'économie d'énergie et de réduction de la consommation.
3. Le flux granulé est correctement chauffé et tamisé, et la taille des particules est uniforme, ce qui est bénéfique pour le réservoir de raffinage pour entrer uniformément dans la couche inférieure du liquide d'aluminium sous l'action du gaz vecteur (N 2 ou Ar), qui entièrement résout le blocage et la défaillance des tuyaux traditionnels. Une dispersion uniforme n'est pas propice à garantir la qualité de la coulée et d'autres problèmes.
4. Une partie des composants du flux granulé est très facile à décomposer à haute température, et le gaz généré est facile à réagir avec l'hydrogène et possède une forte force d'adsorption avec des inclusions de scories et s'échappe rapidement de la masse fondue. D'autres composants ont également la fonction d'agent de nettoyage des scories.